358 mesh, are welded stainless steel wire mesh panels also known as anti climb mesh and security mesh.
358 mesh is a solution for preventing unauthorised access as the rectangular spacing of the horizontal and vertical wires make it unclimbable- yet they allow visibility.
Applications for the use of 358 mesh as high security fencing include airports, rail corridors, sub substations, power plants and commercial and industrial sites.
358 mesh is also commonly used for factory machine guards, balustrade infills and on bridges as anti climb fencing.
The panel is designed to be installed upright (2400mm vertical x 1200mm horizontal). The mesh runs as per the photo- the 75mm running vertically and the 13mm running horizontally.
The mesh is grade 316 stainless steel making it ideal for high corrosive environments and you will have a fence that is built to last!
Further information can be found on our blog post 'Is there such thing as an Anti Climb Fence?'.
Stainless Steel

ANTI CLIMB MESH
Stainless Steel Welded Mesh
2400 x 1200mm Panels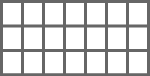 BUILDING INDUSTRY ANTI CLIMB
| wdt_ID | PRODUCT CODE | PRODUCT IMAGE | MESH MM | WIRE DIAMETER MM | APPROX WEIGHT KG | GRADE | TECHNICAL DATA SHEET | REQUEST A QUOTE |
| --- | --- | --- | --- | --- | --- | --- | --- | --- |
| 1 | SSWP 075x013 4.00 1206 | | 75 X 13 | 4 | 26 | 316 | PDF | Quote |
Note: To prevent damage while in transit all stainless steel welded panels are delivered on a non-returnable skid.
No Associated Application.
Stainless Steel Welded Panels- More Information
Welded Mesh Vs Woven Mesh
Welded wire mesh typically has larger openings than woven wire mesh. The wires are welded at each intersection giving the mesh strength and the capability of maintaining its integrity under stress. The popularity of welded mesh is increasing as it can be cut and formed with relative ease.
Welded Mesh terminology
Mesh- The distance between two adjacent parallel wires, measured from centre to centre of the wires.
Diameter-Thickness of the wire
Stocked and custom made welded wire mesh panels
We carry an extensive range of welded mesh panels. Our stocked panels have a width of 1200mm and length of 2400mm the wire diameter starts at 2.50mm to 6mm and the mesh from 25mm to 200mm.  For further information on our stocked welded mesh panels refer to the tables;
Stainless Steel Welded Panels
For a requirement larger than our stocked panels, custom made panels can be made with a width of up to 2400mm and a length of up to 3000mm.
All our welded panels have edges trimmed (flush).
If you require your panels to be fabricated, we can recommend a fabricator to suit your application.
Applications include
Construction
Reinforcing
Architectural
Aviaries/ Zoos
Landscaping/Green Walls
Food processing
Bird Proofing
Louvers
Stainless Steel
Welded Mesh Calculations